Paris Fashion Week – the last of fashion month's quartet of week-long shows – has drawn to a close.
To celebrate the legendary designers and eye-catching outfits, here's a run-down of some of the best catwalk and celeb looks that deserve to be talked about.

Janelle Monae in Chanel
The "Make Me Feel" hitmaker attended numerous fashion shows in Paris this February, and it definitely didn't go unnoticed.
At the Chanel show, she rocked a chic black-and-white ensemble that looked incredible on her. Monae paired an open jacket with a skirt that fell down to her knees and wore the look with black-and-gold heels that had bow straps at the front. The "Pynk" creator sported her dark long hair in braids, applied a coat of black-and-white nail polish and overall, proved that she is still the queen of cool.
Zoey Deutch in Valentino
Before I Fall actress, Zoey Deutch, turned up the heat in a fiery Valentino number. The red PVC coat was paired with burgundy knee-high boots and a black leather shoulder bag, featuring the designer's signature classic V logo embroidered in gold. She slicked back her shoulder-length hair for an effortlessly edgy look.
Cara Delevigne in Dior
Fashion model Cara Delevingne had all eyes on her at the Dior fashion show. She rocked a black sheer lace dress, which was adorned with floral embroidery and was paired with black heels. With a smokey eye and glossy lip, her hair was waved in a 50s film star. Delevingne opted for small gold hoop earrings and a couple of rings to finish the look off.

Zoë and Lenny Kravitz in Saint Laurent
And the award for the coolest dad and daughter duo goes to…
Actress and model Zoe Kravitz arrived at the Saint Laurent fashion show with the rockstar dad, Lenny Kravitz.
Zoe wore a semi-sheer long-sleeved silver, glittery top, paired effortlessly with light blue straight jeans and strappy heels.
As for Lenny, the "Are You Gonna Go My Way" hitmaker rocked an all-black outfit, finished off with super cool shades.
Robyn in Louis Vuitton
Swedish singing sensation Robyn went for edgy glam in a black leather Louis Vuitton number. The "Dancing On My Own" star wore a lycra long-sleeve underneath (it's cold out there) and paired the ensemble with black leather boots.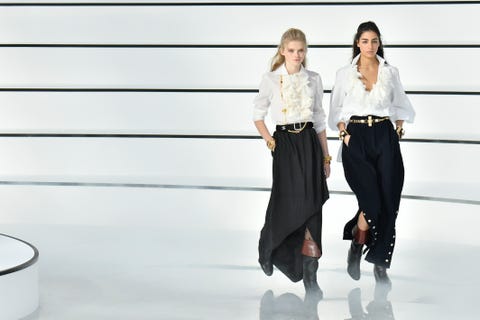 Chanel 
The iconic Chanel fashion show saw a number of cavalier boots in black, double-breasted tweed jackets, ruffled trousers, and virtual treasure chest jewelry that featured on a number of items including belts, long chain necklaces, and earrings. As always, the models looked classy and elegant, the epitome of the Chanel brand.
Balenciaga
Balenciaga models stomped through a flooded catwalk whilst wearing the latest designs. Some walked through in socks while others braved the catwalk in heels.
Held in the Cité du Cinema film studio complex in Saint Denis, a suburb north of Paris, the high fashion garments consisted of long pleathery coats, spooky cloaks and futuristic eyewear. The colourful items of clothing were incredibly eye-catching and would definitely get you noticed.
Dior
The creative design at Dior's runway show felt especially poignant the day following Harvey Weinstein's rape conviction: neons signs such as "consent" flashed above the models' heads.
There was a whole range of outfits that came in stretch knitted material – a trouser suit, a jumpsuit, a dress, and the midi-skirt-and-blazer combination.
The catwalk was papered with pages from France's Le Monde newspaper, a detail that was inspired by a 1949 portrait of Henri Matisse that was snapped by Hungarian photographer Robert Capa.